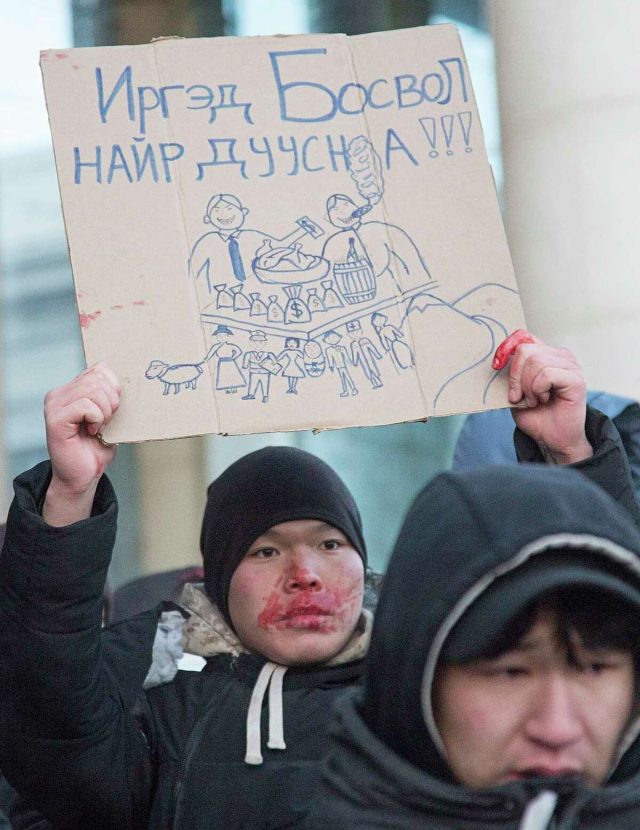 img src: link
---
from yahoo!finance: link
"MONTREAL, December 09, 2022–(BUSINESS WIRE)–Turquoise Hill Resources Ltd. (TSX: TRQ) (NYSE: TRQ) ("Turquoise Hill" or the "Company") today announced that at its special meeting of shareholders held earlier today on December 9, 2022, its shareholders approved the previously announced proposed plan of arrangement pursuant to which, among other things and subject to the satisfaction or waiver of all applicable conditions precedent, Rio Tinto International Holdings Limited ("Rio Tinto") would acquire the approximately 49% of the issued and outstanding common shares of Turquoise Hill that Rio Tinto and its affiliates do not currently own for C$43.00 per share in cash (the "Arrangement").
The Arrangement requires the approval of 66⅔% of votes cast by the Company's shareholders (including Rio Tinto) and the approval of a simple majority of the votes cast by minority shareholders of the Company (excluding Rio Tinto and its affiliates). The Company reports that at the special meeting, the Arrangement was approved by approximately 86.6% of all votes cast as well as by approximately 60.5% of the shares voted by minority shareholders. Turquoise Hill also reports that valid dissent notices were filed representing less than 17.5% of all outstanding shares."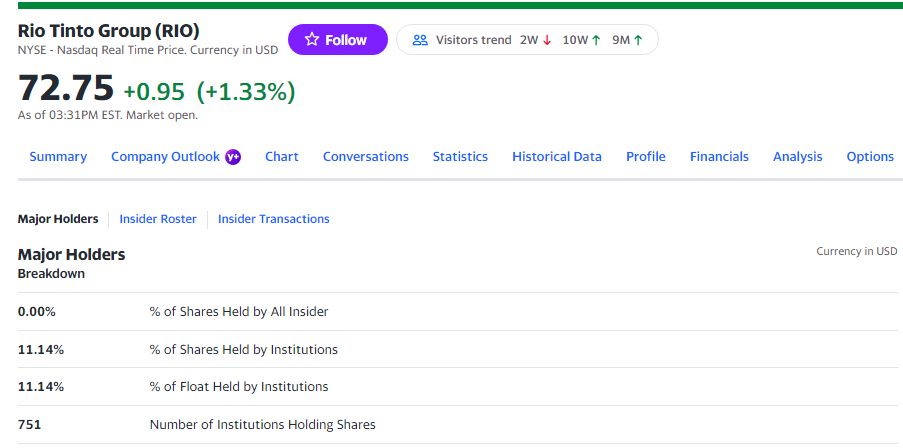 Interesting to note that neither Yahoo!, U.S. News, or Bloomberg mention that the Oyu Tolgoi mine in Mongolia is a Gold mine. They all state "copper mine." Canada's Turqoise Hill shareholders have accepted Rio Tinto's share price today at $43.00 per share.
According to Vladimir Basov' report from Kitco in January beginning of this year,
Oyu Tolgoi increases copper production 9% in 2021,
gold output jumps 157%
"Turquoise Hill announced Monday that full year 2021 copper production from the Oyu Tolgoi mine in Mongolia was 163 thousand tonnes, in line with guidance range of 150 – 180 thousand tonnes, whereas gold production of 468 thousand ounces was also in line with guidance range of 400 – 480 thousand ounces."
"Importantly, the company added that gold production at Oyu Tolgoi in 2021 increased 157% to 468 koz, while silver output of 977 koz was 12% higher than in 2020."
Bloomberg and Yahoo thought it was not important to included this information, listing the mine output of 400,000+ ounces of Gold.
"Oyu Tolgoi is one of the world's largest-known copper and gold deposits, located in the South Gobi region of Mongolia. The Mongolian government holds a 34% stake in the project with Rio's majority-owned Turquoise Hill owning the rest."
Hmm. Just 3 days ago,
Instead, Jakob Stausholm Chief Executive of Rio Tinto pander they are "climate champions" and reducing their carbon footprint at a cost of $7b+ while exploiting the Mongolian resources of Gold, Silver, Copper, Uranium and billions of tonnes of coal.
They also failed to mention the there is a massive human trafficking ring in the region and they are mass polluters. Ex Chief strategy officer of the largest freight company in the world, Maersk, Jakob Stausholm was appointed Chief Execuitve of Rio Tinto in 2021, taking the reigns of the mining conglomerate to extract the Mongolian minerals on behalf of Canada, the U.S. and Australian corporate parasites – the trifecta.
State owned Tavan Togoi mining operations in conjunction with China are also extracting 8 billion tonnes of coal for the next 100 years according to TDB Securities,
ERDENES TAVAN TOLGOI' JSC'S COAL RESERVES ESTIMATED TO BE 7.6-8 BILLION TONS link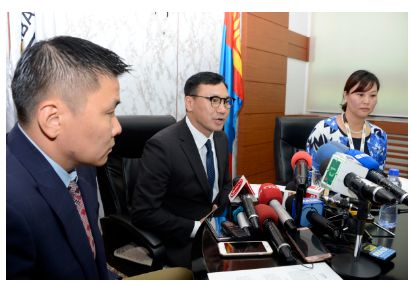 "State owned 'Erdenes Tavantolgoi' JSC's coal reserves are estimated at 6 billion 48 million tonnes according to the professional mineral resource council.
Coal reserves of this deposit were estimated at 5.1 billion tonnes in 1981. Since then 40 years later estimated reserves increased. Erdenes Tavantolgoi JSC's CEO Gankhuyag B clarified that the initial 5.1 billion reserve estimation is from a partial report, and since then further exploration reports increased the reserve estimates.
Since then after 40 years the full report was approved by the professional mineral resource council and reserve estimates were increased to 6 billion tonnes. Explorations that were stopped in 2014 resumed in 2017-2018 over a 130 thousand square meter area and 340 million tonnes of coal were added to the reserves. According to the block method total reserves are estimated at 6.3 billion tonnes. There are differences between the block method and the international JORC standards. Converting the 6.3 billion tonnes of reserve estimations to the JORC estimation the reserves are estimated to be 7.6-8 billion tonnes or more."
Meanwhile, Mongolian citizens are exploited at every turn. According to the Borgen Project, world bank reports,
Poverty Rates: According to the World Bank, 28.4% of Mongolians lived below the poverty line as of 2018. The Mongolian poverty line is defined as living off 166,580 Tugrug ($

66.4 USD

) per month. A further 15% are vulnerable to falling into poverty due to unforeseen events. Taken together, these statistics show that two out of every five Mongolians live in or close to poverty.
Moreover, mining operations are committed to pollution and profit, NOT eliminating carbon footprints, or climate change. They excel in human carnage, water pollution, and sucking every bit of what they can get their dirty paws on economically.
"Baasan Tsend, a nomadic herder living in the Mongolian gold mining region of Zaamar, suspects that the water he uses for drinking, bathing and raising his livestock is toxic. Over the past two decades, he's watched dozens of multi-million-dollar corporations and powerful Mongolian companies pillage his ancestral homeland in search of gold. He's seen these mines contaminate the groundwater and rivers that have sustained his family's way of life for generations and consoled neighbors whose animals died after drinking the polluted water." link
"We cannot live here," Tsend says, holding his grandson's hand. "It is now impossible for any human or animal to drink from that water."
According to the U.S. embassy on Mongolia human trafficking:
"The Government of Mongolia does not fully meet the minimum standards for the elimination of trafficking but is making significant efforts to do so. The government demonstrated overall increasing efforts compared to the previous reporting period, considering the impact of the COVID-19 pandemic on its anti-trafficking capacity; therefore Mongolia remained on Tier 2.
The government increased efforts to protect victims. Mongolia maintained a National Anti-Trafficking Program (2017-2021) and work plan aimed at improving prevention and protection efforts; the government continued to operate on a budget of 509 million MNT ($178,610) allocated in 2019 to implement this program (709 million MNT ($248,790) in 2018 and no funding in 2017). However, the government redirected portions of this budget to respond to the pandemic."
Mongolia was also abused for non-collabaration of Covid adherence. More pandemic Covid nonsense to wave off. According to the diplomat, 
"The country has suffered 56 COVID-19 deaths and 400 health workers have been infected with the virus, exacerbating already strained medical infrastructure that has only two ECMO life-support machines for its 3 million people."
Gimme a break.
I'm seeing figures as low as a dozen deaths from their interior departments and those are even questionable. Look at the laughable data put out by the liars at WHO,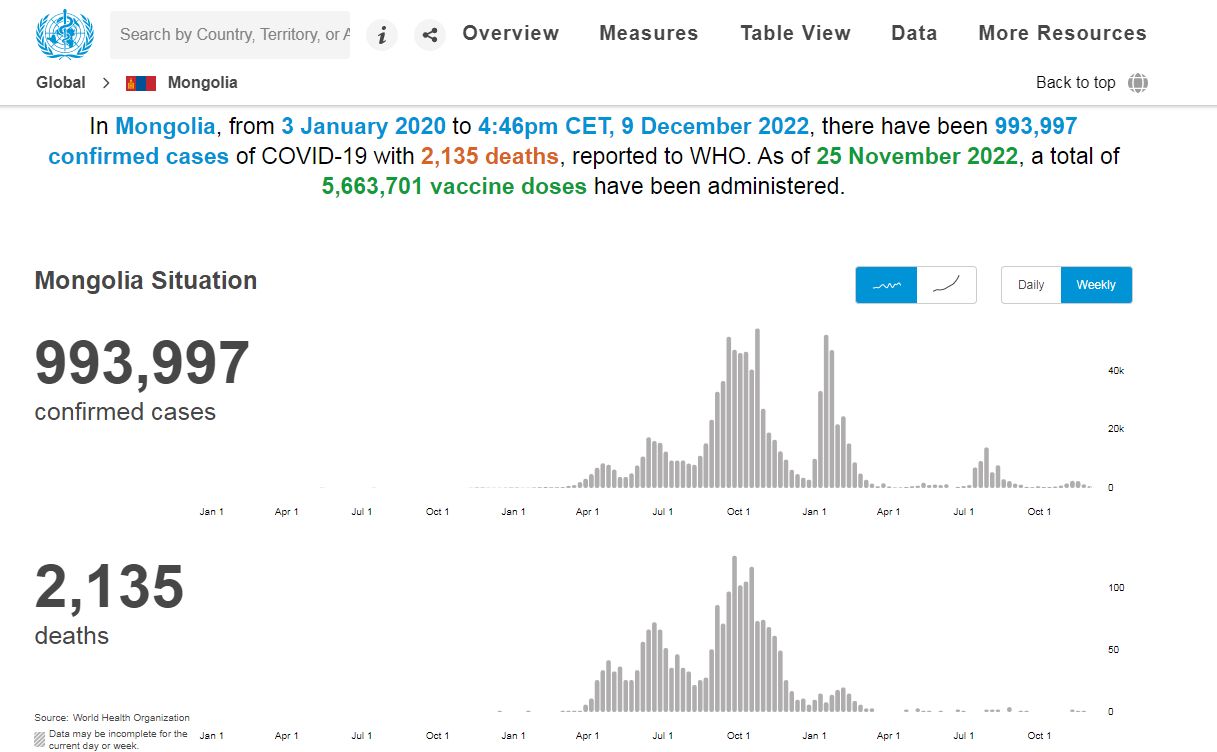 Where did they get this ficticious data from? Legitimate investigatiors are obligated to screen your anti-humanity organizations. The data matches nothing from actual departments within Mongolia. It seems everyone is taking turns exploiting Mongolia's shiny nuggets, especially the trifecta of grief – Australian, Canadian, and U.S. corporate parasites.
Mongolia exposes the climate hypocrisy of the top corporations exploiting everything for their personal gain while riding a carpet of genocide to cultures of the world all while promoting "we're running out of time for climate change," as echoed by various leaders both installed and elected in G20 nations.
Climate change, SDG, ESG – a farce sold by bankers, insurance cons, namely billionaires and purveryors of doom for the purpose of maintaining control on world resources and electricity, which can now be generated for free in Mongolia and anywhere else for that matter.
The masterminds of pollution strip our resources while limiting food production to force populations into ever more hegemony and limited reproduction, the goal of agenda 2030. All while maintaing a smug advertisement of lies that they are doing their best to limit their con of carbon footprints. Populations have tired of their madness and lust of power and control. Their expolitation of anything that breathes, crawls, or bleeds. Their removal from power, whether by destruction of society from their own hand or by the populations rushing at once to end them is all but guaranteed now. The world is begging for justice and it's only a matter of time now that the genome has been aggressed and biomes are in catabolism.
And I quote the protestor seen at the top of the article with blood on his face,
"If the citizens rise up, the feast is over."
Indeed.
May YHWH exact vengeance upon these charlatans of greed – the parasites and enemies of humanity.