---
Ever hear the term psychobabble? Here's how the Urban Dictionary defines the term:
"The illogical stream of words that spew from the mouth of a person incapable of logical thinking or having a constructive conversation. Often experienced when breaking up with or divorcing a significant other."
and Merriam-Webster's version:
1: a predominantly metaphorical language for expressing one's feelings
2: a : psychological jargon b : trite or simplistic language derived from psychotherapy repeating the usual psychobabble about self-discovery – Mark Coleman.
In other words, a mound of baloney. Yet this baloney thinking of today seems to permeate with the young bright minds of the next generation. Worse, these minds provide survey, or small data statistics to base their opinion as fact in the academic world. Always leading with…'recent data shows,' is the art of preaching our reality. When in fact, it all comes down to what it always has been – theories and speculation.
In a recent article about her new book, "The Science of Fate," neuroscientist Dr Hannah Critchlow of the University of Cambridge, comments the following,
"We are just processing information within a cartography of our mind that gives rise mechanistically to our behaviour. So the decisions that we think we are consciously deciding on and making, actually it's all just an illusion that can be reduced to what our brain is telling us to do."
So what the doctor is saying here is, 'You're hungry,' so you choose to eat the banana, but it wasn't a choice just a result of being hungry.  It's easy to sway into psychobabble when we can observe instinctive action based on amygdala, a cluster of neurons located within the temporal lobes of your brain that determine fear ratio.
Too little amygdala and you take greater risk, too much and you can't leave your closet. The problem here is psychologists and neuroscientists collaborating their imaginations and theories based on erroneous studies that determine how you and I think. Dr Critchlow,
"There have definitely been studies that have looked at different brain profiles associated with ideology. People who are very conservative seem to have a much larger volume and a much more sensitive amygdala – the area of the brain that is involved in perceptions of fear. People who are more liberal seem to have a greater weighting on the region of the brain that is engaged in future planning and more collaborative partnerships. They don't seem sensitive to immediate threats; instead, they are looking to the future."
I think it's safe to say Dr. Critchlow doesn't include herself in the 'more sensitive' category. From this painfully clear example of bias, we can conclude the separation of science into the realm of political choice.
Dr. Critchlow apparently has not been informed that through written language all motives and belief can be examined, as it's very difficult to hide what you truly believe, when forensically examined on paper.
Just to inform you readers out there, all language is forensic and can be examined just as you would a crime scene to understand precisely what is being said. Someone should have informed Dr. Critchlow of this to avoid making the apparent leap to political belief, which lay bare the motives of this malfeasant philosophy. Yes, malfeasance, as the doctor addressing the public, is no different than a politician guilty of misconduct.
Bottomline, what Dr. Critchlow is pandering,
You have a medical condition. You are conservative because of your gargantuan amygdala, and we have a pill that can cure this dastardly nuisance. In fact, lets put you through re-education. That will help straighten you out.
Stalin, Hitler, Mao Tse Tung, all had wonderful re-education programs that fixed those darn, pesky amygdala!
In essence, what we have in society is young people being influenced by psychobabble, corporate greed, political, and for-profit medical solutions; meanwhile, earning a doctorate and then spouting phrases such as this:
"For example, anxiety, obesity, depression and addictive behaviour have all been revealed to have a quite high hereditary basis. But of course, all these behaviours may be amplified and reinforced by the decisions of our parents."
The doctor is making the same mistake every psychologist/neuroscientist has done before her, trying to explain the fallacies of mankind to the world, which in the past has resulted in the death of millions of people. It's called philosophy, but nowadays, philosophy is very profitable for drug companies through psychobabble. Sure Neuroscience has it's place, but when that place crosses over to 'tell you' how and why you are thinking, the process becomes dangerous, in fact, detrimental to society – as history shows, can lead to genocide.
Lets ask the Nazi party how they felt about Jews before trucks were turned into moving gas chambers? Lets ask the Reich Minister of Propaganda, Joseph Goebbels, why he compared the minds and bodies of Jews to that of a dirty, diseased street rat, before confining naked women and children to Auschwitz and Dachau. Maybe if Dr. Critchlow stopped for a moment, she could hear the echo of Goebbels in her own voice.
Not all Doctors in the field are irresponsible. Many take a rational approach to new discovery based on caution and plain common sense. Vinod Menon, a PhD professor of psychiatry and behavioral sciences states,
"We are not at a point where we can use these findings to predict the likelihood of a child developing mood and anxiety disorders as an adult, but it is an important step in the identification of young children at risk for clinical anxiety."
However, Menon goes on to say, "The study provides important new insights into the developmental origins of anxiety. Understanding the influence of childhood anxiety on specific amygdala circuits, as identified in the study, could aid in the early identification and treatment of children at risk for anxiety disorders."
That basically means, once your child is selected by your family doctor as having 'anxiety disorder' your child will be put on neurotic drugs to counter that anxiety.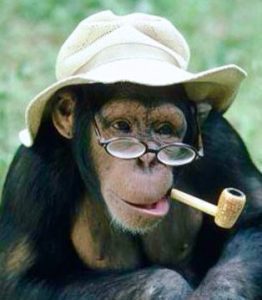 Neuroscience, as all medical association fields of learning, can only approach from their point of view, which is an anti-creator, anti-health, for-profit point of view. All the conclusions are based in the absence of hermeneutics and therefore, inept.
One has to wonder if a person ever asks the question, before they enter the field of psychology, "how and in what way," has modern psychology progressed, rather than the historical text book narrative?"
Few professionals care to look at the real face of psychology and suffer from cognitive dissonance on the following:
"Any investigation attempting to discover whether or not psychiatry or psychology has ever cured anyone should immediately be discouraged and laughed to scorn, and should mobilize at that point all psycho political operatives. At first, it should be ignored, but if this is not possible, the entire weight of all psycho politicians in the nation should be pressed into service. Any tactic possible should be employed to prevent this from occurring. To rebut it, technical appearing papers should exist as to the tremendous number of cures effected by psychiatry and psychology, and whenever possible, percentages of cures, no matter how fictitious, should be worked into legislative papers, thus forming a background of evidence that would immediately rebut any effort to actually locate anyone who had ever been helped by psychiatry or psychology."
Lavrent Beria: Proposals that Must be Avoided
It's much easier to wrap yourself in a blanket of delusion and chalk it all up to hereditary and parental behavior, rather than face the truth of our own darkness and corruption.
Former KGB agent and Soviet defector Yuri Bezmenov said 85–90 percent of the KGB's personnel and resources are dedicated to ideological subversion, of which there are three fields—thought, power, and social life.
---
"Every child in America entering school at the age of five is mentally ill because he comes to school with certain allegiances to our founding fathers, toward our elected officials, toward his parents, toward a belief in a supernatural being, and toward the sovereignty of this nation as a separate entity. It's up to you as teachers to make all these sick children well by creating the international child of the future." Chester M. Pierce

Chester Pierce, Harvard psychiatrist, speaking as an expert in public education at the 1973 International Education Seminar.
Neuroscience, psychology, panpsychism, whatever the theory or field of research, always refer to you as a soul-less bag of meat. You're a meatsock, that acts out it's thoughts based on it's needs, or carnal desires. Consciousness, and the reality of conscience, are all just 'illusions' according to Dr. Critchlow.

What does the Bible say about all this? Uh, oh, I said the dreaded Bible word.
Why would YOU not search an archive of wisdom that displays the motives of those intent on your deception, confusion, and destruction?
What about commentary from historians who have witnessed multiple genocides by tyrants who used philosophy and technology of the day to eradicate populations?
The wisdom of the creator, Almighty YHWH, what does He have to say about this?
Lets examine ancient manuscripts about mind and thought (cogito).
Colossians 2: 8-10 Amp
"See to it that no one takes you captive through philosophy and empty deception [pseudo-intellectual babble], according to the tradition of mere men, following the elementary principles of this world, rather than following Christ. For in Him all the fullness of Deity dwells in bodily form [completely expressing the divine essence of God]. And in Him you have been made complete, and He is the head over all rule and authority [of every angelic and earthly power]."
You see, even 2,000 years ago, the population was aware of ridiculous philosophies and to guard against such.
What does it mean to be made complete?
πληρόω – complete (play-rah-o) plēroō (roll the r)
to make full, to fill up, i.e. to fill to the full
to cause to abound, to furnish or supply liberally
I abound, I am liberally supplied
to render full, i.e. to complete
to fill to the top:
so that nothing shall be wanting to full measure,
fill to the brim
make complete in every particular, to render perfect
carry through to the end, to accomplish, carry out
carry into effect, bring to realisation, realise
of matters of duty: to perform, execute
of sayings, promises, prophecies, ratify, accomplish
to fulfill, i.e. to cause God's will to be obeyed as it should be
fulfill God's promises to receive fulfillment.
תָּמִים – Complete (tah-meem) tamiym
complete, whole, entire
whole, sound, healthful
complete, entire (of time)
sound, wholesome, unimpaired, innocent, having integrity
what is complete or entirely in accord with truth and fact
  2 Corinthians 5:17 Esv
"Therefore, if anyone is in Christ, he is a new creation. The old has passed away; behold, the new has come."
---
So we as Christians and those who follow YHWH, Judaism, Allah, Islam, are we more complete than those of the secular world?
Absolutely. In any faith, the closer you get to God, the closer you get to perfection, as God is perfection.
"Oh, so you think you are better than me, huh!"
That's a huge misconception. It has nothing to do with being better. It's the difference between being clean, or unclean, defiled or not.

You can be a better basketball player than me, but I have the Spirit of God in me and you don't believe in God, then you are defiled – you are unclean, whereas, one can only be cleansed through YHWH korbanot or HaMashiach Jesus.
It is no insult to say "Your car is dirty," it's merely a fact.
A fact the secular world will always grapple with, and why their defiled minds always try to explain and provide a solution, or drug for the fallacy of mankind, without ever knowing the condition.
It's no different if you go to your doctor and say "I think I have the flu doc," and the doctor says "Let me take a look at you. Yep, you sure have the flu!"
Are you insulted because the doctor told you, "You're sick, you're unclean?"
טָמֵא – defiled/unclean (tah-may) tame
to be unclean, become unclean, become impure
(Qal) to be or become unclean sexually, religiously, ceremonially
(Niphal) to defile oneself, be defiled sexually, by idolatry, ceremonially
(Piel) to defile, sexually, religiously, ceremonially
to pronounce unclean, declare unclean (ceremonially)
to profane (God's name)
μιαίνω – defiled (may-i-no) miaino
to dye with another colour, to stain
to defile, pollute, sully, contaminate, soil
to defile with sins
So when a doctor declares their belief in academia, and science, apart from God, we know they are defiled/unclean – tame.
You can announce to the person they are tame (tah-may) and explain to them why, to help them be healed, and be on the path to tamiym (tah-meem, be complete). Just like you would about a diet to your children.
Now in Christ, HaMashiach Yeshua, (Jesus the anointed one) we are made complete according to scripture. We know this when we receive the gift of the Holy Spirit, after acknowledging Yeshua our Adonai, is the karbanot for the defiled for all time.
That's where confusion comes in, as much of the world has no idea what karbanot is, or what it means. Ask your psych professor, they'll probably say, "Karba-what?"
It's no different from TCM (Traditional Chinese Medicine). America approaches from treating with drug application, whereas China approaches from both drugs and herbal remedy. Japan, for example, has a completely different diet than Westerners and why they live longer with very little heart disease.
Those who are tamiym (tah-meem) receive the Holy Spirit of God. The Spirit literally comes into your being, you feel the Spirit come over you, and reside within you. Adonai calls this the 'comforter,' which the Spirit greatly is. Now many equate this with jesting remarks, and foolishness, just as a child equates learning how to swim – with laughter, awe, and being frightened of the unknown.
We mock what we don't understand. We jeer to cover up our own inadequacy.
Now, those who are tamiym have no need of drugs, psychotropics, medications, as Elohim teaches you HOW to be cured mentally and physically by balancing your entire system, bringing you into harmony. Now, don't get me wrong, if you have diabetes, I am not saying quit your diabetes diet and medication. I am saying the direct opposite, you have diabetes based on the condition of the flesh, and the Holy Spirit can heal that condition.
How, you might ask?
Because He is the mighty YHWH that has created all things. How could you ever possibly know when you believe this reality to be foolishness. Just as TCM is foolishness to the American Medical Association, so is Elohim who created all things to psychology. Those who worship science, will never fully understand science, only those who receive the Holy Spirit. For to those who are tamiym – science bends, and obeys.
Human nature resists becoming tamiym due to sin and carnality, or what neuroscience and psychology fail to understand.
That doesn't mean you, or any person like Dr. Critchlow, believe that you can be made perfect in God, or that God even exists. I can however, prove that God does exist to any person willing to take the experiment. Don't be a coward, see if you can beat the experiment.
Jeremiah 17:9-10 NKJV

The heart is deceitful above all things,
And desperately wicked;
Who can know it?
I, the Lord, search the heart, test the mind,
Even to give every man according to his ways,
According to the fruit of his doings.
Titus 1:15 Esv
"To the pure, all things are pure, but to the defiled and unbelieving, nothing is pure; but both their minds and their consciences are defiled."
That's the essence of the problem, and why doctors and experts of psychology preach vain illusions – their minds know that they are defiled, but don't understand why.
Romans 8:5-6 NKJV
"For those who live according to the flesh set their minds on the things of the flesh, but those who live according to the Spirit, the things of the Spirit. For to be carnally minded is death, but to be spiritually minded is life and peace."
So yes, there is still a fate – one to eternal destruction, and one to eternal life.