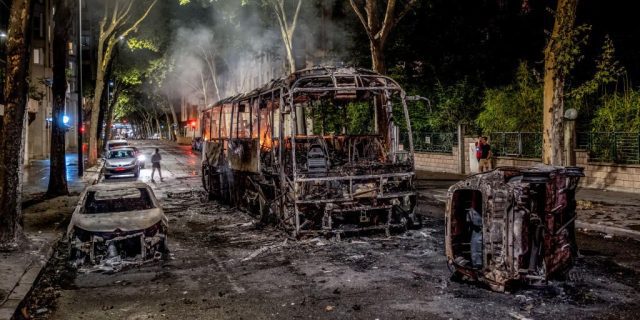 img src courtesy: https://www.lemonde.fr/societe/article/2023/07/02/pillages-incendies-agressions-le-bilan-effarant-des-jours-et-des-nuits-d-emeutes-en-france_6180265_3224.html
---
Forget about Covid-19. The released pathogen which caused the death of less than 2% of the population in major cities, mostly based on inept leaders and malpractice of handling the weaponized variant. Statistics vary greatly, especially if we examine Tibet, with less than .01% of deaths in most populations – less than alcohol or cancer deaths to be sure.
Covid-19, without a doubt, is considered by the National Library of Medicine to be a "highly contagious pathogenic viral infection," and similarly the riots in France, due to an aggressed genome of homo sapiens (catabolism) is as highly infectious.
We have been monitoring the conditions in France for the last 2 years, and now the riots are blamed on a 17 year old kid being killed by Police, a similar narrative that worked so well in America, but the French are not so stupid to believe all the news content pumped in their heads daily as it is in their cultural bones to commencer la révolution.
We can see through the lens of French media the same propaganda schemes employed the world over,
The French communist paper l'Humanité,
Violence: Far-right organizes militias | Humanity (humanite.fr)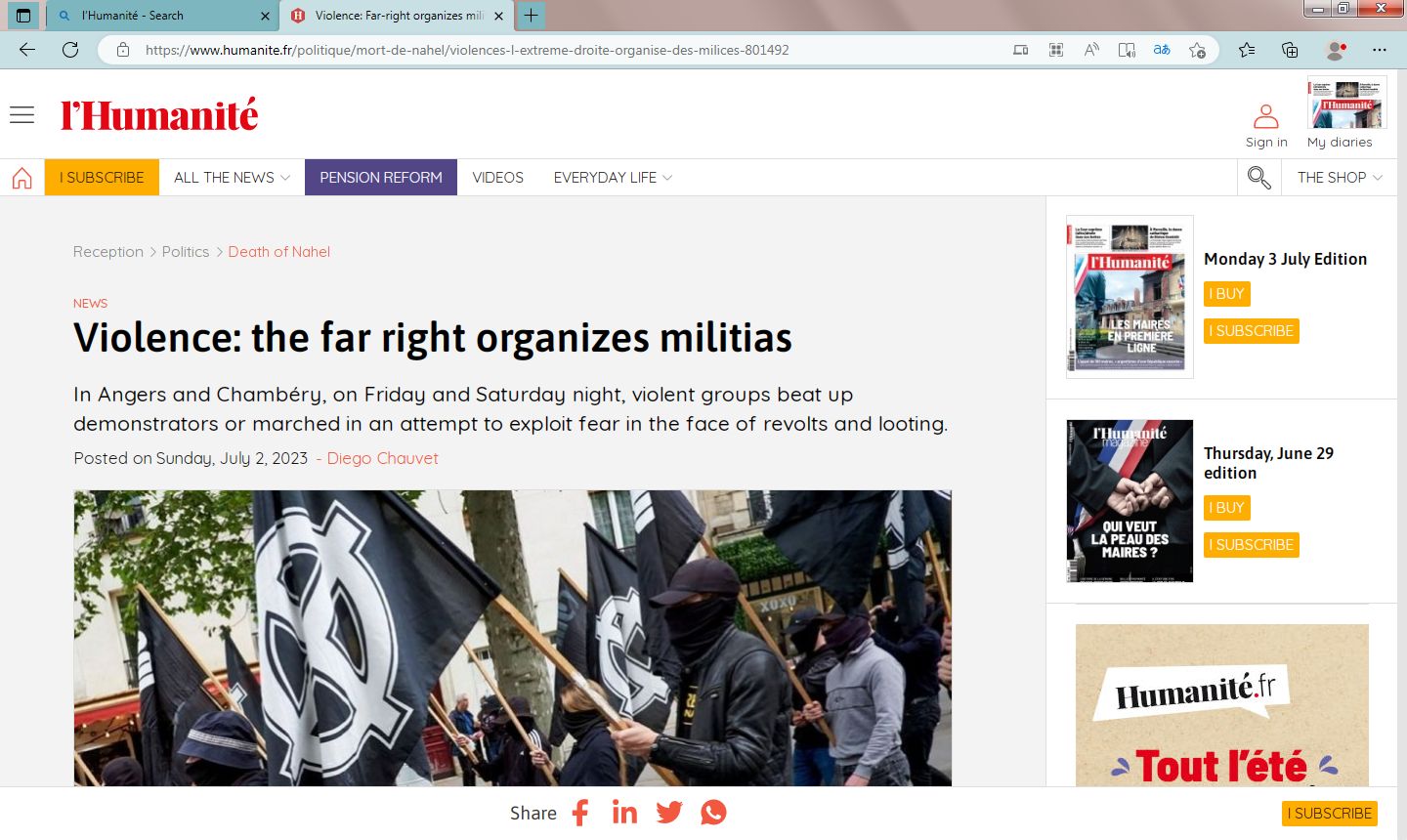 Above is what you see advertised by leftist Democratic party affiliate newspapers and think-tanks in America. In France, they're simply known as a communist newspaper and don't hide the fact they are a communist newspaper – which showcase the difference in cultures between France and the USA. In America those who are communist and fulfill altruist communist agenda must hide their allegiance to such as it's taboo to be pro-communist in America no matter how great they wish to change the minds of Americans.
Le Monde, (The World) established in 1944 during WWII,
Looting, arson, assault: the staggering toll of the days and nights of riots in France (lemonde.fr)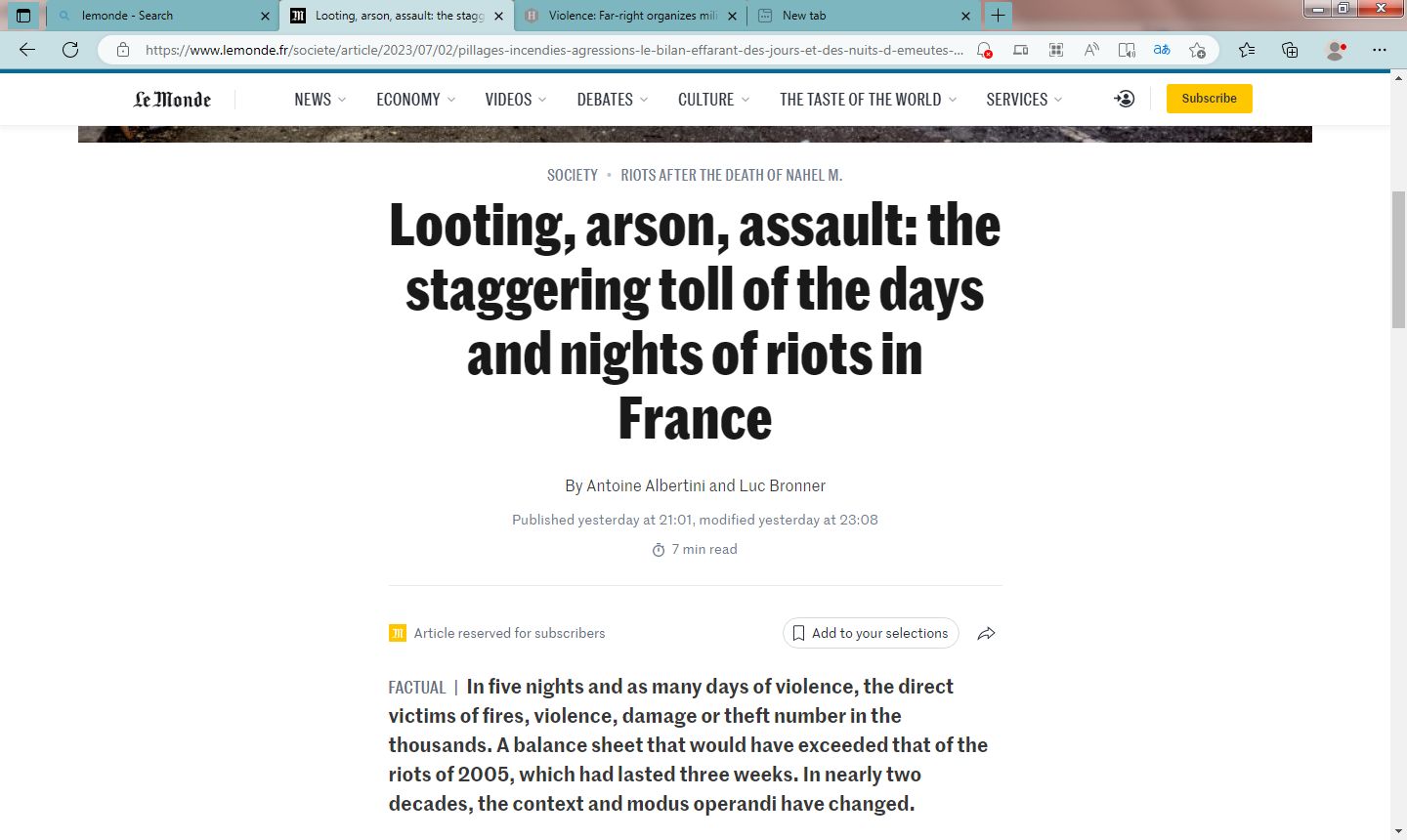 "After condemning the 'violence and acts of looting (…) totally unacceptable', the tenant of Bercy addressed 'all [his] support to the entrepreneurs and employees affected' and 'called for a return to order'. In total, at least a dozen shopping malls and more than two hundred supermarket chains were 'attacked and looted' – fifteen of which were burned – as well as 250 tobacco shops and as many bank branches, sportswear stores and fast food chains, the minister listed.' Urban riots: Bruno Le Maire asks insurers to pay compensation "as soon as possible" (lemonde.fr)
So can we blame this on communist or Russian intervention, similar to the protests of the 1960's Berkeley "Free Speech Movement" to stop the slaughter in Vietnam?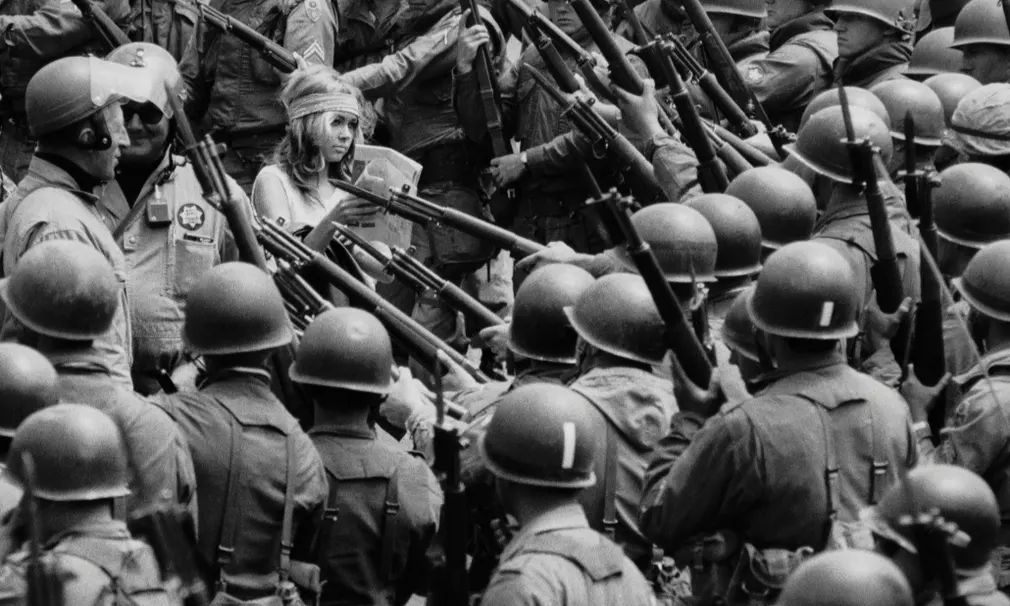 img src: Ted Streshinsky/Corbis via https://www.theguardian.com/us-news/gallery/2014/nov/15/berkeley-a-history-of-disobedience-in-pictures
Or is this communist intervention to defeat the West in Vietnam through attrition? Create riots, inject poison into foods, medical malpractrice, pathogen release, use paid mercs to infiltrate political parties, college institution, and "peace groups" for Antifa production, riot and cultural destabilization management. All for the purpose of winning on the battlefield. The basics of attrition.
Is this what we're seeing now before Taiwan is invaded?
Possibly…
What we do know is that when you start arresting the French for giving Macron the finger, viva la révolution is right around the corner and who knows how far that will spread like Covid-19. Can the people keep being violated both medically, verbally, and through law with little if any rebellion? And will society be tested for all breaking points as the Nazi's and their 4th industrial revolution tell us so?
And catabolism will ensue to it's end.
"Macron received a hostile reception by crowds as he embarked on his first trip out of Paris since signing his unpopular pensions reform into law.
The trio, two men and a woman, reportedly shouted insults at the leader and made obscene gestures using the middle finger last Wednesday in the town of Sélestat. None of the accused has any criminal history, while a fourth person was arrested but released without charge.
Prosecutor Catherine Sorita-Minard said the trio would appear on a prior admission of guilt for contempt of a person holding public authority.
Article 33 of the French penal code states that "any outrageous expression, terms of contempt or invective that does is ascribed without fact" aimed at a public official, constitutes an insult and can be sanctioned by one year in prison and 15,000 euros fine.
Two contempt proceedings involving Macron were filed during the leader's first first term in office. One was against a Kanak activist from New Caledonia, while the other involved a 61-year-old pensioner who attended a demonstration.
Both ultimately received a legal warning.
Meanwhile a woman in northern France will go trial in June on charges of insulting Macron after describing him as 'filth' in a Facebook post." https://www.rfi.fr/en/france/20230423-french-protesters-to-face-court-for-insulting-macron-over-pensions-policy
The beginning of revolution is but a pinprick away.