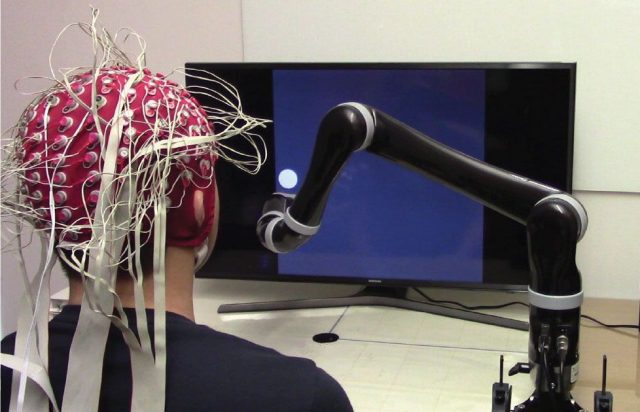 img src: link
---
For those taking recess to be with their families I hope you enjoy the holidays and I stress your aides need to be versed in what is written here and get back as soon as your available to evaluate the volumes of data granted for upcoming House Committee on Science, Space and Technology and technical data for CHIPS & Science Act development.
The data from the Association of American Universities will be cross examined accordingly.
The article at the link reads as,
First-ever mind-controlled robotic arm that works without brain implant
A breakthrough in the field of noninvasive robotic device control.
BY AMIT MALEWAR
Well, not really.
The first one I witnessed was from a decade ago and it was a chimp that had a neural implant, but not long after helmet modules were produced. Implants are still primary.
Yes we have the capability to remotely control a persons arms to make them fly a helicopter or perform technical applications, but these are not commercial applications.
Will there be a future where robotic arms and neural links can be purchased at a store and swapped out like a cell phone case?
The hyper models state that technology in war machined development will outpace any notion of a society to live in such a Sci-Fi video game realm of Cyberpunk, Scott's Blade Runner, or Star Wars esque biomechanics.
Sure we'll have limited capability of getting implants, or scarificing limbs for metal bending arms and legs, but again, the current models state that wartime development is far outpacing what these commercial variants could be and the real threat is that humanity won't make it past the current tech of war development in progress now.
What that means is humanity will more than likely succumb to our technology. That a group or groups of powerful technocrats, in their lust for power and control will achieve their autonomous vision for a short time, but destroy everything in the process and knocking society as we know it back to, well, simpler times. Unless they are stopped of course. Either way the models predict failure and destruction of whatever dynasty they envisioned like Hitler (3rd reich, 4th reich).
As those who believe in Torah, we have known this for centuries. Ancient documents from Nevi'im, which have been 3/4 fulfilled over 3,800 years (every point in history one can research on their own) state that society will succumb to notorious entity who wish to control all – the Tower of Babel ideology.
In Jewish communities it's no secret that we believe a Tzadik will rise up to become Moshiach and every generation a candidate is sought out to fulfill misinterpreted Navi prophecy.
We know the tech will be used for this purpose by both goyim and Israel alike in the quest for world domination. The point of the Tzadik is to accumulate all natural resource so that it can be righfully administered in righteousness to the cultures of the world.
However, like any philosophy, groups will arise and manipulate the ideologies for their own "brand" or purpose for dominating the other groups. Each religion has factions who break off into personal interpretation of what ancient documents portray will occur and intend to claim this future for their own.
No need to delve into the religions of the world and these sects as it would take an entire book to do so and you have about ten minutes to read before going to meetings that determine policy for the rest of America. I did my thesis on religion with Buddhism as a focus. My name itself has over 500 years of Zydom, or Jewish culture attached to it and so the reader is not confused, I believe Jesus is HaMashiach or the Messiah who saved the world and place my deliverance in His hands.
You can take that for whatever it means to you and as those who are atheist, you are entitled to your opinions and arguments just like the rest of us. In order to understand belief and ideology we must first discuss the data and come away with understanding what guides groups and organizations to do what they do and for what purpose.
I'll draw a slight overview here, which culminates the understanding of neural-link dangers as controlled by various groups that have a history of manipulating data, or pushing personal agenda, while advocating political positions through various fund-raising organizations and committees. Like all religions, they each have an agenda, whether world peace, or domination and is a definitive reason atheists point out their loathing of such based on Islamic rule, the Crusaders, and Zionist schism.
KTU Coat of Arms: Mithraism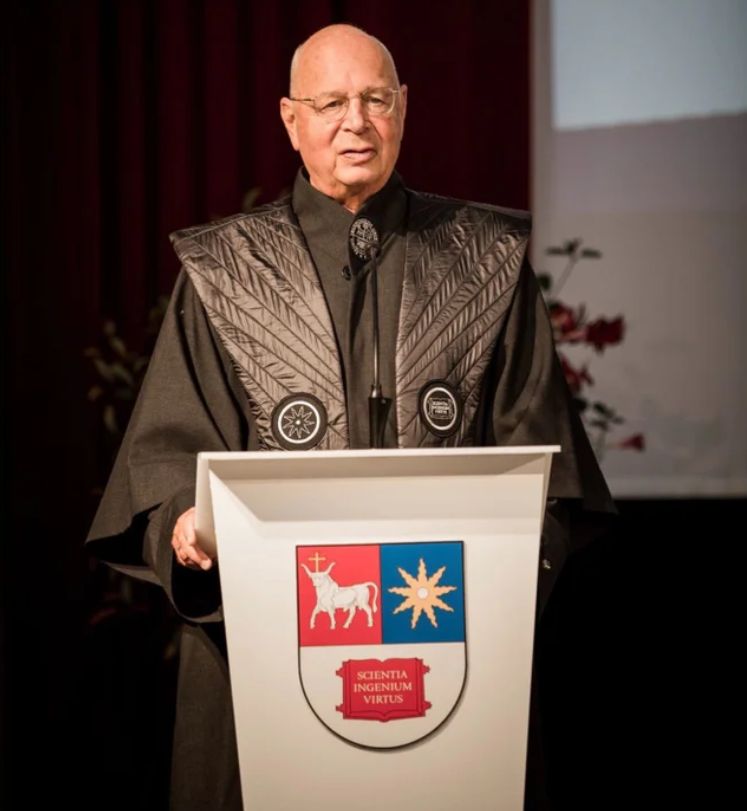 The Bahai faith and nine pointed star of Mr. Schwab – the Hunger Games series of books and movies expanded upon this ideology of "personality" zones which determine economic output, prosperity, and spiritual enlightenment.
"The Coat of Arms was changed when Klaus received his honorary doctorate from this university. The upper left part of the KTU coat of arms has the Bull of the Mithraic Pagan religion, with the Roman Catholic cross on it.
Mithraism, also known as the Mithraic mysteries, was a Roman mystery religion centered on the god Mithras. Although inspired by Iranian worship of the Zoroastrian divinity (yazata) Mithra, the Greek Mithras is linked to a new and distinctive imagery, with the level of continuity between Persian and Greco-Roman practice debated. The mysteries were popular among the Imperial Roman army from about the 1st to the 4th century CE.
Worshippers of Mithras had a complex system of seven grades of initiation and communal ritual meals. Initiates called themselves syndexioi, those 'united by the handshake'. They met in underground temples, now called mithraea (singular mithraeum), which survive in large numbers. The cult appears to have had its centre in Rome, and was popular throughout the western half of the empire, as far south as Roman Africa and Numidia, as far north as Roman Britain, and to a lesser extent in Roman Syria in the East.
Early Christian apologists noted similarities between Mithraic and Christian rituals, but nonetheless took an extremely negative view of Mithraism: they interpreted Mithraic rituals as evil copies of Christian ones. For instance, Tertullian wrote that as a prelude to the Mithraic initiation ceremony, the initiate was given a ritual bath and at the end of the ceremony, received a mark on the forehead. He described these rites as a diabolical counterfeit of the baptism and chrismation of Christians."
Nine Pointed Star – Scientia, Ingenium, Virtus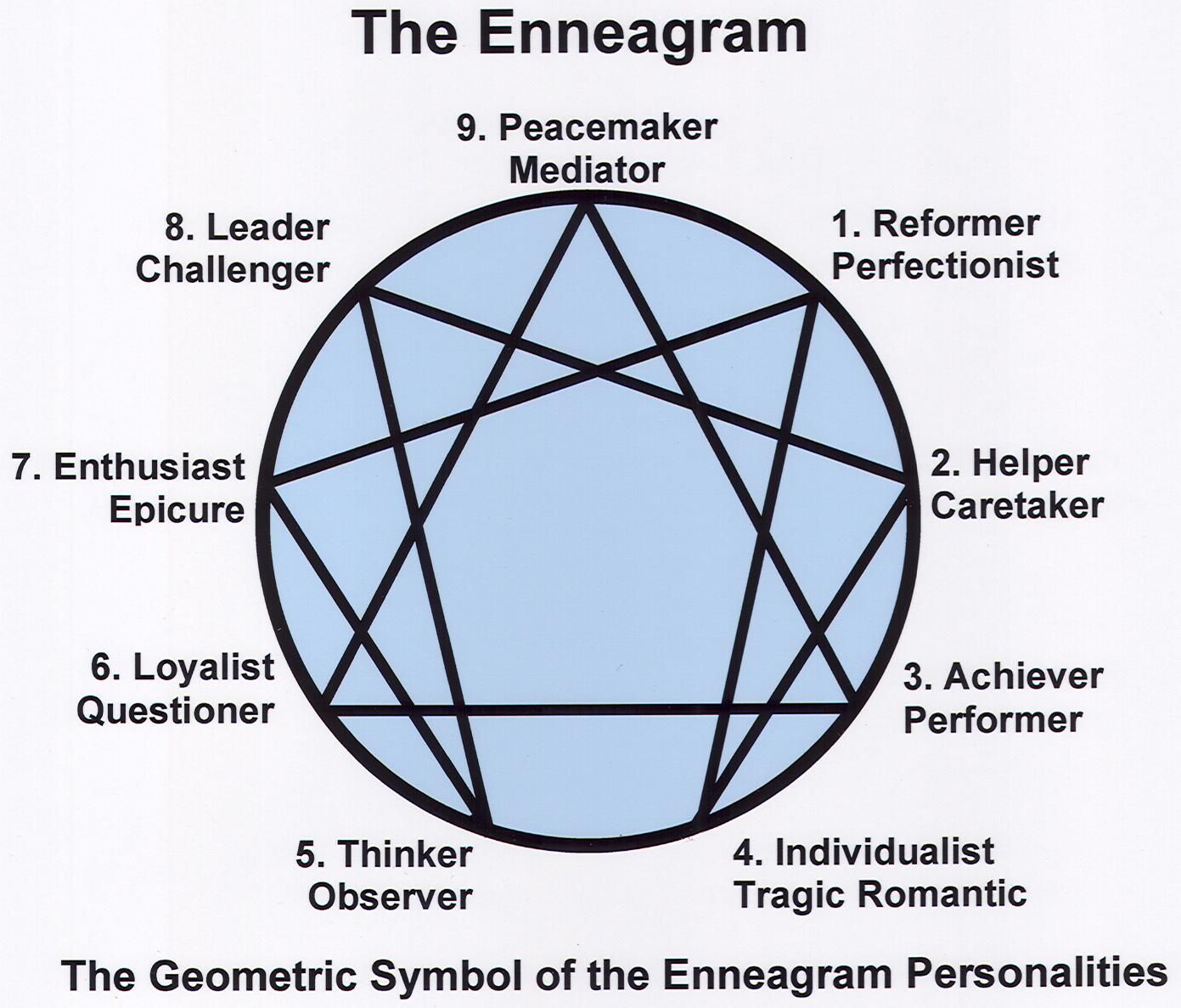 https://www.michaelneeley.com/ben-saltzman-international-seminar-leader-enneagram-expert/
The Enneagram of Personality dissects human personality into  nine personality types. "The Nine Pointed Star is used by the Ba'hai faith to represent perfection and unity."
"The Nine Pointed Star is not an official symbol of the Bahá'í Faith, but it is commonly used because of the significance of the number nine. In the Abjad system the numerical value of the word Bahá is nine, and therefore the two can be used interchangeably. It can be typed on computers since Unicode 15 (codepoint U+1F7D9," https://bahaipedia.org/Nine_Pointed_Star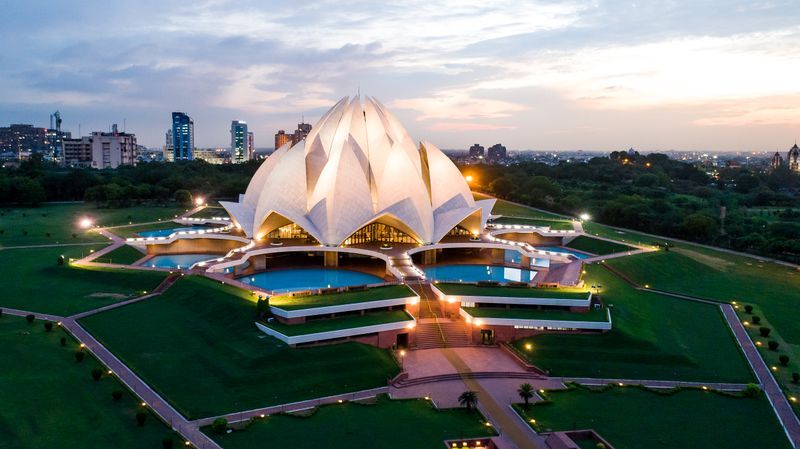 One could almost say a merger between Kabbalah or sufi mysticism, Buddhaic remnants and Christian spattering.
"French mystic, Saint-Ives d'Alvedre (1824 – 1909), claimed that the legend was far older. He said that the Nine Unknowns were beings from the star Sirius who came originally to the Tarim Basin in Central Asia in 34,000 BCE and there established their Shambhalic headquarters. Their sojourn in Atlantis came much later. Sufis attribute great mystical significance to their tradition of the Nine Unknown Masters as it is expressed in the No-Koonja, the nine-pointed Sufi diagram also known as the Naqsh or Seal. They say that this metaphysical glyph "reaches for the innermost secrets of man"; and the Sufi writer Ernest Scott in his classic The People of the Secret implies that it stands for one of the highest and most authoritative echelons in the Sufi hierarchy."
https://www.newdawnmagazine.com/articles/sufism-the-nine-unknowns
The 4th reich is simply a euphemism of Hitler/Marxist mingling of spiritual Buddhism. Although little is currently known about the inner workings of these organizations, except by those indoctrinated into them, there is a long list of very wealthy benefactors and constituents aligned, whether believing in their faith or simply out of monetary or political compensation to do so.
Moving onto our Jewish faith, which I'll apologize up front that no quick summary of such will alow an understanding of 4,000 years of history.
Talmudic logic breaks into several allegiances from orthodox to atheist, reform (LGBTQ), Zionism (political and not necessarily atheist) and a quasi-Buddhist spiritual mix from sufi mysticism labelled kabbalah. Most popular amongst those who label themselves having a "jewish background" is from altruistic communism by Baal HaSulem, a Polish rabbi judge from the same region of Poland my family emanated from.
The most popular format in which you can be "Jewish" is merely believing in communal rights or tradition and have no belief in the Bible or HaShem for that matter. Israeli polls on belief in G-d determine validity that the majority of citizens are secular and have confused understanding of historical backgrounds which are mixed from both Arabic, European, British, and American influence.
We clearly see a rift between the Zionist government and reform movements (see Haaretz article), which could be addressed as a right, left position in America and this is backed by campaigns to explain why Zionism is part of Judaism and we also see new organizations forming within Israel claiming that Zionism is now a "religion" rather than the perspective political alliance it has always been. So there are some deep issues there that are causing a rift based on again, political gropus manipulating data to remain relevant, which is nothing new.
Examples of ideology from branches of Judaistic belief can be seen in countless fictional movies and TV series, namely Star Trek. The Borg from Star Trek – a gradual leading of society into some intermix, mingling of the seed for a better control scenario in which ultimately leads to everyone converting to Judaism as a residual formula. On the one hand you have communista adherence for the end goal of universal peace (Federation) and on the other a Tzadik leader who crushes all opposition like Darth Sidious. Thus, the light and dark side of the force if you will.
An example in advertisements for all media is mischling (mixed blood), or displaying black and white couples which is called diversity or inclusion and several study manuals determine it's a best fit for mingling the seed for an end result based off medieval lore of Biblical texts communicating King Solomon and Bathsheba aggadah. This was produced in full by Germany during WWII against Jewish culture.
Years ago this mingling of the seed concept was kind of a secret, but well known now as "inclusion" and anti-racism. If you would like to purchase advertising at a CBS owned stations, or similar owned news meida studios, you're going to be told you need to have white/black/asian etc, mix to do those ads. So it's no secret to any company trying to do advertising for their products they will be told they must showcase intermarried couples for any type of advertising. It's all part of the larger concept of mischling which was learned in Germany by those who either lived it or did it. Mischling as aggressed upon the German population, is just now repackaged as "inclusion" and a reverse for any type of nationalism.
George Lucas Star Wars chose the "British" to be the bad guys in his movies, and this is my opinion, he disagrees with the Zionist Federation formed in England in 1899 where the word "Jewish" comes from as a Judaic narrative. I also agree that the invention of "Jewish" by the English as describing it's, taxed citizens, under the Judicial privy council led to mass confusionism concerning Judaic history and traditions to this day, albeit that was not the intention. This is now the forefront topic in Israel,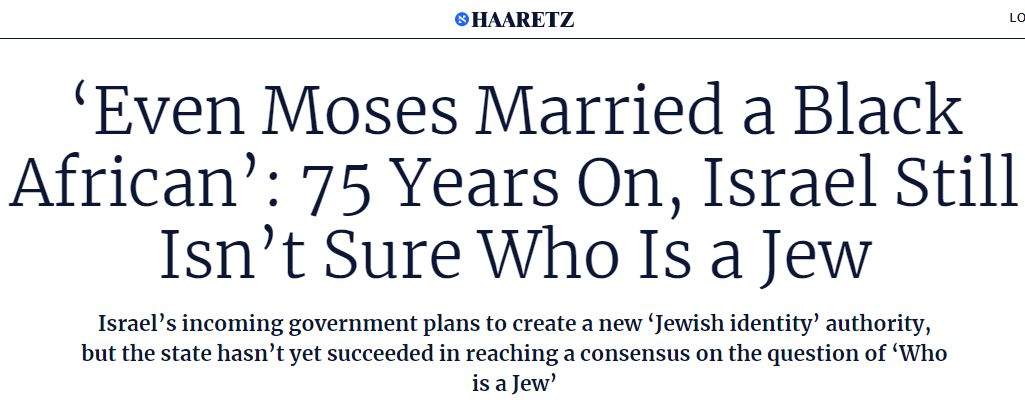 https://www.haaretz.com/israel-news/2022-12-27/ty-article-magazine/.premium/75-years-after-its-creation-israel-still-debates-who-is-a-jew/00000185-5339-d6a2-adf5-73f9766f0000
It's sad to read articles in Israel and see the abundant confusion that has been ongoing for a hundred years since the British Palestinian mandate.
Americans and Israeli's can in no wise be the Brit-ish Jew-ish, but the confused still claim this title as defining a historical background apart from where it was invented – England.
The new form of propaganda aimed at those who claim to be jewish is telling them that they are either jewish or jew-ish (sort of jewish). The idea is to make the readers mind equate jew-ish as meaning that the person is semi-jewish, rather than recognize the etymology of the word origin Brit-ish / Jew-ish.
This simply updates the confusion to the reader that jew-ish means that you're partially jewish, rather than recognition that the word is progeny of it's inventors, the Brit-ish. A sleight of hand trick if you will.
I'm getting off topic here, but it's important you note the dangers of manipulating philology and how cultures can be subtly pushed, one word at a time, to believe propaganda or false paradigm and embrace fiction as their actual history.
It seems there are great endeavors to keep the public ill informed that the word Jewish was developed in England and imported to America and now describes a new culture of people from an elision word that has existed only since the 18th century and in which is manipulated for political rabble at every turn.
So we see the problem there as well when it comes to mismanaging data by owners of encyclopedia websites and publishing houses and how this ties in with AI systems generating faulty data instantly and regurgitating this false data through news articles like Haaretz and tens of thousands of volumes of literature that artificial intelligence software selects to represent as facts to your children under a broken education system.
Only the uneducated (the majority) believe that the word Jewish existed in the time of Ceasar or before the 18th century based on parroting and purposed propaganda from authors. This narrative from the Brit-ish, whether intentionally fed to the public or not, is unravelling. And rightfully so. Israelis are no longer taxed British citizens who live and die under the Crown of England. This is simply another chapter in Levant history in which the page is turning.
So we expect a further fracturing of these groups as they attempt to maintain propaganda, or lies as information dissemination is now accessible by all. Search results in the popular search engines, I won't name such, are now censoring historical examination and documents concerning education on these topics and it's no wonder why. To maintain fictions over cultures in order to inhibit fractional units, which according to all hyper models, cannot be achieved for long.
The Jewish culture has been slowly waking up to the fictions we are surrounded in, namely those who pretend to be part of a "Jewish group" when they don't believe in G-d and have altered the fabric of reality and tradition the word suggests which is now being analysed along with the history of indoctrination.
As so many of the politicians and CEO's have gone completely off the rails, nullifying any form of morality or ethics to a community who reads Torah daily is just too adverse to go without examination. You can't be a CEO who evokes genocide and in the same breath say you're from a Jewish family.
Moreover, the term "Jewish" the world over is being bashed due to these criminal CEO's and politicians whose only connection to Judaism was a false perception of their family name in the first place. This new creation that you can do whatever you want, no matter how egregious under the banner "jewish," could not possibly continue forever to a culture who believes in a creator of the universe and daily says shema. It's too diametrically opposed to reason and logic and gives rise to antisemitism globally.
The intermingling of Judaism meshed with Marxism from 1917 to what it is today in 2022, showcase business entity, mergers and rifts, and groups who break off based on being tired of the drab of tradition or awakenment with monetary independence.
Similar to Catholicism vs Luther, or Protestant who broke from the Catholic system in the 16th century. You'll notice how that Christian period was called the reformation and in the Jewish community those who have broke from traditional Torah belief for same sex marriage and LGBTQ civil rights are referred to as reform, or liberal to define the secular – hybrid etymology for similar cutting of the ties but still wishing to remain in the larger sect to receive all the benefits while claiming the same titles.
These groups will continue to divide and fracture into compartmentalized factions which will be abused by occult leaders, fanatics, terror entities, or political organizations, and should be closely monitored.
Christian eschatology can be examined through both political advocacy of Catholic institution and the Left Behind series of books, movies, and novels such as The Late Great Planet Earth by Hal Lidsey from 1970. The ideology differs from Baptist, Lutheran, Episcopalian, and Mormon belief with regards to "tribulation" dispensations which determine a persons faith and belief in Jesus.
Just as all religions, fractional units can be manipulated into believing fictional reality and political parties can further erode large organizational entity through exploiting fractured units to chip away at "belief" or unity of the central theme of the religion. Both Japan and China have varying methodology over centuries of dealing with these issues.
Some of the methods in the U.S. are deconstruction, removal of IRS exemptions, ADL amicus filings, and infiltration by secular groups to change bylaws concerning gender, same sex marriage, and gay rights. The goal is attrition to make a chapter or sect accept anti-biblical revisions in the hope other sects will fall like dominoes, or that Federal or State law can be amended to further erode political or voting power on part of Christian entity. Simply one faction against another for power or control at the end of the day.
Under Covid both the guise of "civil rights" and protecting the public health were used in order to change laws or add additional powers to governors to erode church congregation or gatherings. A simple method of eroding power or knowledge is to stop the groups from gathering and discussing topics, or limiting this capability, while feeding mass propaganda. Hitler and the Nazi SS used similar tactics so we see a repeat and it's no doubt many of those leading the cadence are of German origin where the ideology materialized.
Jesus is the central theme of Christianity, the Messiah, and the opponents of the faith are labelled either atheist or Jewish to keep deep seeded psychological division at the forefront of the fictions.
Those leading the ADL, again some German descent there, are no longer considered Jewish by many of the Orthodox community, albeit, the alternative claims. Again, an ongoing problem of "what do you believe?" when there is so much propaganda and manipulation of data all of which can now be done much faster with neural-link and AI interface.
Each compartment for example, Jewish, Christian, Atheist, Buddhist, Islam, can believe that they must form a unity for world peace, while at the same time be convinced (by factions manipulating such) that each must dominate the other by the "end" or dispensational end times.
There are a host of logical historical conclusions to back this division of both religions and cultures: Crusades, pogroms, evolutionary Science, Calpihate rule, Tibetan influence, etc,.
Breitbart news data seem to have their own fascination and dictionary determining what Christianity means to a nation and Christian groups are widely varied by both political and dispensational adherence to both a left and right anchor for faith in which political parties, again manipulate for that all important vote. It's not too hard to see who is playing both sides and to examine the motives.
It's been said that no President has ever been elected that didn't claim faith as a Christian. Even President Obama did although his study and ideology is from communist, socialist altruism. All other faiths would like to remove the Christian litmus for political power to again, strengthen their groups ideology, and/or goals.
A recent example of Breitbart news, concerning mischling and confusionism is the article they ran on Whoopi Goldberg. I know I am including alot of example concerning Judaic narrative, but the culture is one of the most abused out there from multi-political formats so it's a unique litmus for committee to examine.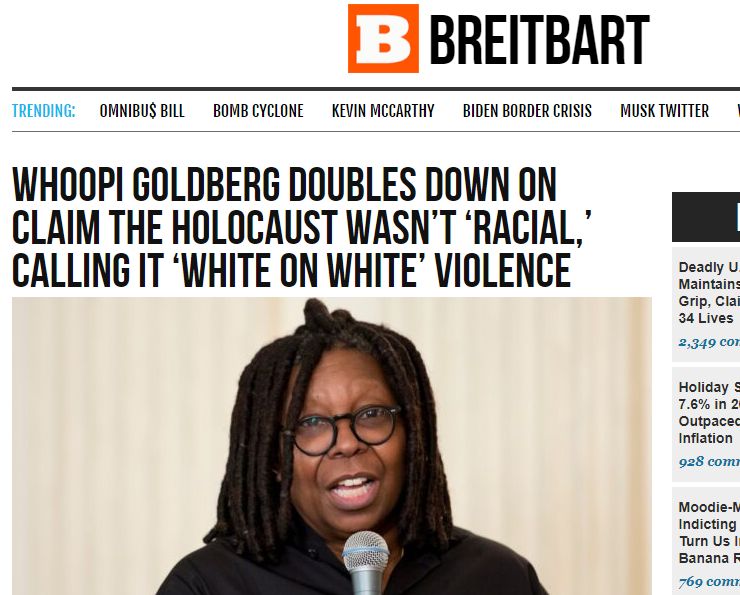 From the article,
"During an interview with the Sunday Times over the weekend, Goldberg lamented the outcry her comments generated back then, and defended herself saying the claim that Jews were not the victims of racism during the Holocaust was factually correct."
"Goldberg, who changed her name to sound Jewish despite having no Jewish ancestry, later issued an on-air apology, stating 'words matter' and that she 'stands with the Jewish people.'"
So here is a prime example of misinformation that artificial intelligence can learn from and someone with neural-link can access from the internet. Both Breitbart news and Whoopi Goldberg are expressing opinions while misleading the audience, not intentionally, but simply out of ignorance of actual history. This is one of the dangers we face as a society.
Breitbart states,
"Goldberg, who changed her name to sound Jewish despite having no Jewish ancestry…" is the fallacy.
The name "Goldberg" is from German ancestry, not Jewish ancestry. There is no such "Jewish" ancestry, only what is deemed Jewish culture. The word "Jewish" as examined, is an elision word from iewe of the Archaic English Coverdale Bible and used as a legal description under the Zionist Federation of 1899 in England. The Palestinian Mandate of 1922 and the Balfour Agreement described the terminology of jewish as referring to English citizens taxed by the Crown legally under the Judicial Privy Council for anyone who would live in the future state of Israel formed in 1948.
So although I would not declare this propaganda on part of Breitbart, that's what it is. The declaration to the readers mind is that German names are "Jewish" when they are not. The word Jew-ish / Brit-ish, (describes both taxed citizens) is an English legal term meaning, from Judah, or the German slang of Yuden as declared under Hitlers mischling of which neither Whoopi or Breitbart mentioned, possibly due to lack of education on the subject.
"The 1933 "Law for the Restoration of the Professional Civil Service" restructured the entire civil service according to racial principles. In particular, the "Aryan Paragraph", the exclusion of "non-Aryan" civil servants by compulsory retirement, ended the legal equality of Jewish people.
The 1935 Reich Citizenship Law of 1935 deprived Yuden people of German citizenship and assigned them the second-class status as 'nationals' with limited civil rights. Furthermore, the 'Law for the Protection of German Blood and Honour' banned 'mixed marriages' between partners of 'aryan' and 'Judaic' blood." https://journey.holocaust.org.uk/topic/anti-jewish-laws-1933-1938/
Also Whoopi declare that it was simplty "white on white" hate and not a racial prejudice from the Germans which is also incorrect.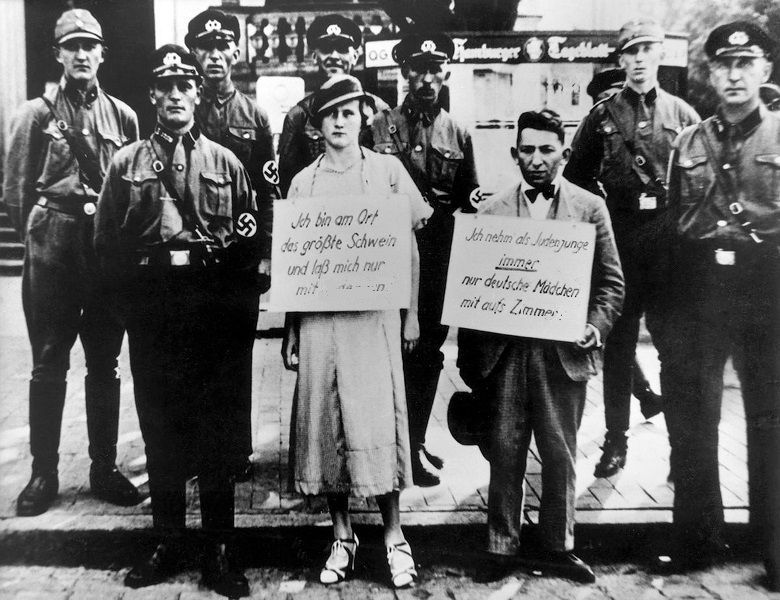 "In 1933, Jewish businessman Oskar Danker and his girlfriend, a Christian woman, were forced to carry signs discouraging Yuden-German integration. Intimate relationships between "true Germans" and Yuden were outlawed by 1935." https://www.facinghistory.org/holocaust-and-human-behavior/chapter-6/nuremberg-laws
Does the reader see the difference in racial between German and Yuden here? Maybe if you're blind you could believe there is no difference, however, many converted to Judaism and why you see that the majority of those claiming Israeli ancestry have white rather than Arabic or Levant skin tone.
So above is a perfect example of how information is easily manipulated to the public, or photoshopped pictures, whether purposely for propaganda, or unintentional through opinion by uneducated celebrities, journalists, or authors.
All AI will learn from what it's examining, whether books, internet archive, or videos; data stream in general ok. So if we're feeding the AI misinformation on cultural heritage such as Judaism lumped together as "Jews," Christianity theories, and opinions on what happened under Hitler then the AI will regurgitate that distorted data as knowledge to the user as facts. Neural link and AI can express this reality in real-time for school syllabus and so we can clearly see the danger here for not only education systems but for doctorates earning their PhD under false dichotomy and moving into the real world with brainwashed ideology to reflect as whole institution, whether medical, or historical.
Anyone with a PhD can be considered intelligent, however, they're human and controlled by the same managed data fed into their cortex as any other human. If the human lacks the capability of distinguishing manipulated data from actual historic data then we have a rift between fields of Science. As is now we have a system of promoted group think. On the one hand, the Borg from Star Trek attempting to assimilate cultures and the other hand a rift from those who educate themselves as regards correct data in both science and historical realism bereft of interlaced propaganda and confusionism designed to hide the intents of coordinated group assault on main stream data.
These subtle manipulations can now be sped ahead with AI interface when any kid can access ChatGPT; ask the robot a question and instantly receive answers that may or may not be manipulated data. Throw this into a classroom setting and you have both a unique tool at solving problems faster, while manipulating culture faster.
As with any upgraded tools, dangers of destruction, as in nuclear capability and genome splicing, can have permanent consequences. Historically CEO's and for-profit ventures have never been responsible in guarding humanity, but their own stock portfolio's and survival of their company or namesake is the only thing that matters compared to the rest of society.
What more do we need to ask when the minds running these initatives openly suggest there are too many mouths to feed of these useless animals? So as a politician you are obligated to your family first, business second, constituents third, and society as last in line – how then do you proceed with this information knowing you're as cannon fodder as the rest of society when looking at the data? It's a tough pill to swallow facing the monster of this thing called artificial intelligence and the organizations streaming ever faster every day that goes by.
It's a tidal wave that has passed over all politicians, presidents, prime ministers and society in general and I'm afraid to say you have been washed out to sea.
With the religions discussed above, sans Islam, as the State Department is well versed, all have sects or cults which have broken off from the main groups and result in terrorist factions, suicide clubs, sexual enslavement and paradigms that collude with science alternatives similar to Scientology and other for-profit organizations.
Subjugation or "conversion of all" is generally the theme and misinterpreted adherence of Navi prophecy in every group examined above.
The hyper models, as they read out currently, suggest that groups made up of technocrats, occultists, and hardcore climatologists/eugenics will cater to an agreed upon structured society where all worship an AI created entity which kills all non-worshippers. As incredible as that sounds, those of Israel had experienced the same under the Greeks, Antiochus Epiphanes in 2nd century B.C. as a foreshadowed event for the future.
The culling of population started with both English and German eugenic movements. Those ruling vast economic empires are offspring to these ideals and as you know Covid proves that any type of biological disaster can be unleashed if one has the will to do so. Morals and ethics viewed from their eyes, like Hitler, and can be chalked up as "doing mankind a favor," by either genocide, reducing populations, manipulating sperm and ovary production, and "upgrading" the human genome to their grand vision of what they believe is in yours and the worlds best interest.
As we have examined the models, just as every major think-tank and advisor to presidents and prime ministers, we can conclude that the data is being manipulated for personal agenda and will result in a large death toll if gone unchecked by responsible governance.
It's no wonder that those leading some of these technocratic institutes and initiatives are generally German or individuals with German last names, including those who claim "Jewish roots" (where the ideology took hold). If we cross examine CEO's in Pharma to finance, food production, and entertainment companies we'll see the common names ending in Man, Berg, and Stein. This doesn't mean they're jewish as Breitbart news is painting to their audience, it simply means many of them inherited or were financed by already successful ventures stemming back pre WWII era. Localized ideology based on lineage can be tracked via immigration movement and cross examined with economic output factoring, pretty easy stuff.
We can conclude then that there is simply an ideology that a culture clung to, which gave birth to financial hegemony and attracted like-minded business opportunity for similar lineage class groups, whether caucasian as to Mr. Trump (drum) or to Mr. Fink (species of bird finch), or Mr. Schwab (Swabia region in Germany), the names are German ancestry.
We can view any lineage by name as to what region. My name Zawada is the root word in Poland from dozens of townships (dorf and weisz), Zavadiv in Ukraine, and Zavadov in Russian. The region one lived generally determines what kind of life was lived, ideology believed, religious choice, marriage, and migration.
The Germans advanced technology greatly under Adolph Hitler and American society still uses their advancements in rocket tech, fusion, and machine gun variants (MG-42/M240) as examples.
Their adancement in technology for trekked vehicles led to "Blitzkrieg" tactics or lightning fast strikes.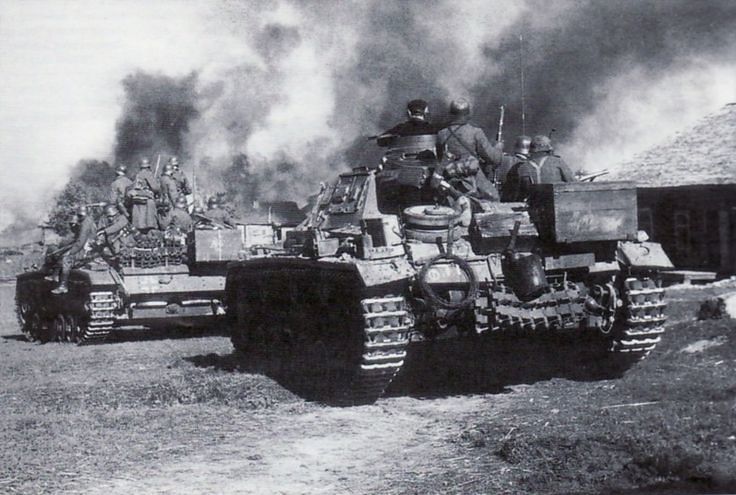 "The blitzkrieg is a method to conduct and win the air-land battle using combined-arms teams of aircraft, tanks, mechanized troops, and infantry. Tank equipped formations break the defensive line, followed by armored and motorized troops that penetrate rapidly thorough the gap in great depth, preventing the slow-moving enemy army from establishing a new defensive line in the rear. Simultaneously friendly aircraft pounce on these enemy's reserves during their movement along roads and railroads to interdict their advance." link
The advances in war frame technology simply allowed a faster destruction of man which destroyed much of Europe and 80 million casualties in WWII.
The new advancements in artificial intelligence combined with techocratic manipulation of psychology and historical data allows for subjugation of energy resource both social and economic as well noted since the 1950's under agreement that such should be coordinated privately by hegemonic corporate infrastructure considered capable of realizing a utopian dispensation of equality concerning commodities and natural resource use. The World Economic Forum echoes such a thought as per the ideology accepted and as led through a religious concept known as Bahai and the enneagram.
Naturally as all times in history, Hitlers abuse of power would take hold within a generation and as in Germany's advancement in medical wonders, namely eugenics, bombs, bullets and guns, social control constructs painted as nationalism allowed Germany to rapidly move forward conquering nations with a psychologically empath which energized society in total agreement.
What we see today is a better mouse trap integrated with microchips, injected nanoparticulates, and advanced war mechanics that make Hitler look like an amateur. The difference between now and that of Hitler and the Nazi Party's Schutzstaffel (SS) is spearheaded propaganda through their "Reich Citizenship Laws" which allowed for fast paced PsyOp campaigns to fester a division in German society for nationalising a military state under the guise of "we're better than everyone else" in order to rise up Germany out of the ashes of it's economy.
It was necessary to cleanse or "purge" their nation of non-aryan mixed blood according to their ideology. Which meant an end to immigration, or over 400 laws passed to determine the differences between immigrants and German blood stemming back to 1750. This is how my family ended up in Auschwitz, Flossenburg, and Dachau camps and murdered.
Keep in mind it only took a decade for Hitler to accomplish this task.
Now the destructive capacity held in cheque by G20 nations can destroy the world faster, leaner as a Kaizen principle, using less troops, ICBM's, drones, and frequency technology Hitler could only have dreamed of.
The psycho ploys of Goebbels Reich Ministry for Public Enlightenment and Propaganda is childs play compared to video games re-educating the youth. From wearing masks in video games to make the norm in society as a removal of stimulus from human emotion, as embellished under Covid, murdering over and over again for rewards and top kill board counts, and every form of debauchery to human sacrifice is the video game norm in youth culture to reprogram the beast into uncaring, unintelligent animals, or simply beasts of slave labor burden hooked on dopamine release in Metaverse fantasy worlds.
You can clearly see the system of integrating microsoft type gaming award points applied to climate policy initiatives for scientists as 12 year olds receiving happy reward points for their achievements. This policy was discussed decades ago to keep even the best and brightest minds dumbed down to idiot status,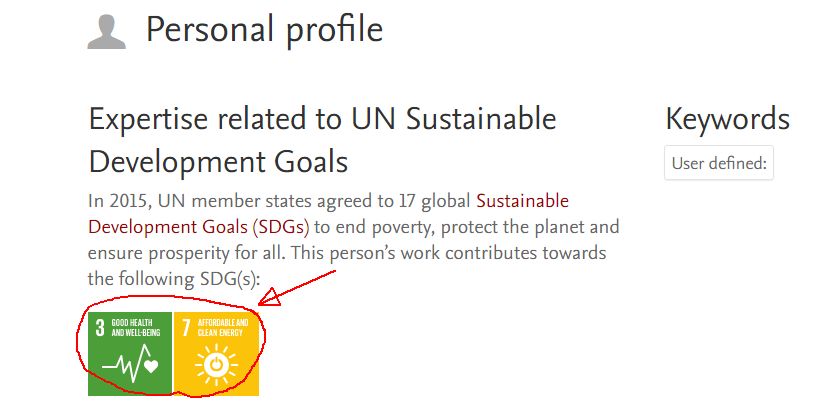 A simple system of displaying award points to those without, for edification to achieve points. A system for slave minds who will be dumbed down as controlled children getting rewards, similar to the Nazi SS youth culture to indoctrinate children through "camping" and providing rewards based on giving service to the state. This reward system eventually hardened youth into nationalized, racist soldiers who would follow any order to remain in the SS system. For without, were the losers of society.
"The Hitler Youth and the League of German Girls were the primary tools that the Nazis used to shape the beliefs, thinking and actions of German youth. Youth leaders used tightly controlled group activities and staged propaganda events such as mass rallies full of ritual and spectacle to create the illusion of one national community reaching across class and religious divisions that characterized Germany before 1933." link
So we see the same psychological basis here through rewards under game theory as employed by video game and software companies, simply due to the fact these methods work, regardless of what culture employs them. Although this seems technical and cutting edge technology, really it's sub-par and the effects will harden resistance for cultures after examining the indoctrination methodology of rewards points through gaming and dopamine release through cellphones and games. It's the reason China has strict time frames for youth gaming, while American kids are indoctrinated en masse. Cell phones, once realized as lottery to your demise will be eschewed in mass.
It's simply Hiter 2.0, but instead of Nazi parades, your children are indoctrinated through their phones and video games you allow them to consume constantly like heroin addicts.
The methods are working and it's up to society to educate and guard against such. How do you tell little Johnny he is only going to be allowed to play Fortnite for one hour a night instead of six hours a day? (top played games in 2022)
So there will be a timeframe of getting clean like an alcoholic or heroine addict from these devices, in which chaos will ensue with heigtened propaganda to keep the remaining nicotine addicts plugged in with every form of debauchery and technology used in that regard. Like all withdrawls this will be an unpleasant time for humanity and there will be an uptick in reprisals against corporate vanguards with their very own class in rebellion.
What is called the "metaverse" is really a future look at indoctrination. Making it the normal to be vaccinated in video games, while debasing through murder, sex, and filth by whatever a corporate entity comes up with to manipulate your childrens psychology and DNA for population control under the guise of protecting your neighbor.
The Nazi SS did the same with protecting it's culture from the disease of migrants which led to genocide. Vaccine programs, once a benefit to society, now expolited as corporations do with everything and again we see certain lineage groups who are leading in this race based on their localized ideology. They are bad weather that will pass but at what cost? How many lives ruined, cities laid waste, and the human genome altered in this quest for control?
Historically, if we examine this data through a lens 30 years in the future, there is no possible way for these technocrats to keep a lid on information under Moore's law. Just as suppressed data over the decades is now transparent. Everyone has access to the same technical manuals they are reading or will hack to get those manuals for competitive advantage to keep up with the Jones' if you will. Quite honestly it's fool hardy to believe that the data will not be examined and disseminated when we can transfer all internet data now in less than five minutes. We'll discuss that as well at the meetings.
The annihilators of our time have re-educated not through concentration camps, but video game indoctrination, cellphone hyper connectivity to render society a lesser intelligent, dumbed down version of the free love days of the 1960's. With marijuana readily available to anyone, especially college kids complaining of a back ache, the erosion of society is in play and the outcome, according to models I see, is not a total control of society and resources, but aggravation of the human genome until it turns and rends complete destruction to the progenitors of such, just like occurred in Germany.
So what we do is we take all this data and we plug it into our magical eight balls in the hope we can hit paydirt, or relevant data that can be used for advising you, our policy makers.
After we get back 6,865,432 results we further ask "what if" scenarios, just like everyone else does with their software (Blackrock Alladin, Armstrong Socrates) and narrow the number down to plausible scenario. I love it when scientists representing their firm, ahem microsoft, states "we have 97.8% certainty" concerning a topic when it's simply plugged in data from their analysts feeding the AI. You are then convinced to follow "their plan" in which they fudge data showing the results and spread their arms broadly over the room size monitor screen saying "see, look how smart we are."
Yes, I concede, they are smart at destroying civilization. Lets conclude here then as this article grew a bit long.
I understand the doctrine developed out of ideology from certain groups that had the ability to peer a few decades into the future from the 1950's and like any entrepreneurs took their shot at making their agreements come to fruition. Naturally, other groups would get involved and agree that this would be a great solution to their problems as well and so we find the current condition of society as it is now, coming to a head of these failed models that have pushed society into a stage 2 catabolic process.
I'll be clear here that neither Harvard, nor Rockefeller institute had any idea what catabolism was at that time. Until IBM developed the first atomic microscope in the early 80's, much of the data back then was guesstimates. Science came to know this by the early 90's in much regard and had they known, a different course might have been chosen, but we can't get in a time machine and go back and fix that.
Currently the state of society is catabolic (examine your bank mergers) and I have warned about this to those who actually look at hyper models and outcome protocol determining causality within degenerative pathways.
I will say that again so you understand – degenerative pathway. Now the smart guys on the board are saying "that's exactly what we want!" and then get on a plane and fly back to their home base in Zurich Switzerland. well that might be great for them as a business model – the erosion of Europe and the U.S. as a construct or for other groups to buy up entity and real estate at pennies on the dollar, but it does little good for Americans.
Ok, we live here, not the cold peaks of the Swiss mountains. In essence, it's time you disobey as politicians. As no scientist can ignore the data for long and the only way to deal with it is to supress data as occurred under Covid and there is no way to do that any longer without force, which will create cause and effect. Force will be met with force as any manual can be clear on this for wartime understanding. I'm sure the board can have someone from the Naval War College brief on force on force manuals and how society will basically disarm you through military action as underground movements known by the Polish and French during WWII, but I'm getting off topic. The French however, are now quickly reaching this point and we'll keep monitoring that.
The Swiss and scandinavian model DOES NOT fit America. Sorry, as much as you want to smash that square into the circle like a drug addled chimpanzee, it don't work.
What we are dealing with is catabolism and I'll explain what that means for the outcome of specific groups, just not in this article here. Lets get you through this for the day. You can send your aides to the following website to get a better understanding of how it works in organisms, which you'll still require further explanation as to occurrence in industrial application, at any rate, the end result is the same.
https://byjus.com/chemistry/catabolism/
"Catabolism is the part of the metabolic process that breaks down large, complicated molecules into smaller ones in order to produce energy. The energy is released as a result of the destructive branch of metabolism."
Stages of Catabolism
Catabolism can be broken down into 3 main stages. The three stages are as explained as follows-
Stage 1 – Stage of Digestion
The large organic molecules of organic chemistry like proteins, lipids, and polysaccharides are digested into their smaller components outside cells. This stage acts on starch, cellulose or proteins that cannot be directly absorbed by the cells.
Stage 2 – Release of energy
Once the molecules are broken down, these molecules are taken up by cells and converted to yet smaller molecules, usually acetyl coenzyme A, which releases some energy.
Stage 3 – Energy Stored
The released energy is stored by reducing the coenzyme nicotinamide adenine dinucleotide into NADH. This process provides the chemical energy necessary for the maintenance and growth of cells.
In stage 2, we can get into the meat and potatoes of degenerative pathways in which all biomes, industry, economics the human equation in geneal operate.
In essence catabolism in which all biomes must obey.
As smart as CEO's and creatures are in developing their schemes to control all resources and humanity how is it that they missed the rule in which governs the human species? Just as the law of thermodyanmics determines economy and states "all non managed systems always pass to a state of greater disorder" – catabolism in biomes determines survival and destruction to preserve the human genome.
The answer is simple. And I am not picking on anyone here or making accusations against three people. I am just stating the obvious for committee personel to examine with a fine tooth comb so they can make proper decisions, ok. Mr. Gates, Mr. Schwab, Mr. Bloomberg and other billionaires of industry in the world were never doctors and their careers didn't have anything to do with medical science, evolutionary history, or how biomes function based on pathology.
Bill Gates made his fortune in computer science, which tells him an answer like anyone can get by pushing buttons. Henry Ford with a third grade education got all his answers pushing buttons and having "people" tell him the answer and he became the richest man in America bailing out the Federal government and banks during the crash. It didn't mean he was capable of thinking it out for himself or understanding the long term effects of answers "given to him" by people who wanted to get paid by him. Now throw in every CEO for-profit guy in Pfizer, Lloyds, Sackler and NEST and we have a giant mess that has to be eventually cleaned up, like Fukushima, that threatens the existance of not only food supply, but how humanity lives or survives as a species.
The biome humanity now lives is catabolic as sure as the sun will shine tomorrow. The technocrats can continue to ignore this and shout at the top of their lungs "we're running out of time for climate change" as they rub their hands in glee at the outcome, all while ignoring the fact that catabolism will complete and all their money, power, and control won't put humpty dumpty back together again.
Those of us who understand science and this reality also understand that the terminology for this catabolic end is called YOM YHWH. We have studied this for years and you guys are the ones catching up here. Those who rely on their vast wealth to save them, swimming in their gold like scrooge McDuck, will find only ashes, their own tears, at the destruction they have caused and the eternal judge waiting to pronounce perpetual judgment in accordance to their sins. Everyone and everything you hold dear and love will be lost to their experiments on humanity and they'll say, "oops, I thought that would turn out better," as they succumb to the same fate as everyone else.
We are telling you as calmly and as sternly as we can, you are allowing these guys to jeopardize the entire biome of human living, ALL SPECIES, for control schemes and the AI models you trust based on inputs from their advisors is telling you a line of hogwash. If you do not take action NOW, by action that tells them, "hey, that's enough, you're project is on hold," then you will find your family and the world we live very shortly in a cataclysmic state and it will have nothing to do with climate change my friends.
God Bless and I wish you all a very Merry Christmas, Happy Hanukkah again, and I hope you enjoy your holiday and time off with your family.