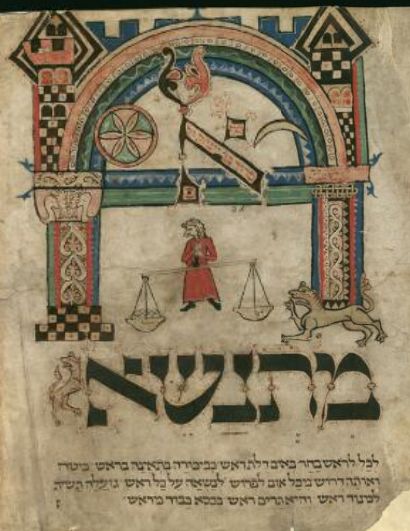 From the National Library of Israel collection. "Ktiv" Project,
---
The National Library of Israel, Jerusalem, Israel
Type of writing

Square

year

L.B.-M (1272-1280)

commentary

Includes the prayers: Blessings of the Dawn, Four Parshas, Passover, Shavuot, Tisha B'Av (Part 1), Rosh Hashanah, Yom Kippur, Sukkot (Part 2).
In Part 1, pages 2a-34a: Ecclesiastes 1:11-12:13, Job, Jeremiah 1:1-23:5, Isaiah 44:1-13:10. In part 2, pages 206b-219b: Song of Songs, Ruth, and Ecclesiastes.
In circulation there are many signatures of the apostles, most of them on pages 38b-39a, 226b of part A.
With paintings and ornate.
Another topic: Sedorim Prayer and Cycles The National Library of Israel Jerusalem Israel Ms. Heb. 781=4
Catalogue Kennicott 378 in two colophons (page 34b in Part 1): "I am simcha in R. Judah the scribe I wrote this cycle to my uncle R. Baruch b. Isaac … And I finished it… In the year thirty-two to elaborate …".
On page 133a is inscribed with: "Judah the scribe from Nurenberk, Simcha the scribe, Shemaya the Tserp[ti]."
Digitized Manuscripts:
Kennicott, Benjamin, Dissertatio generalis in Vetus Testamentum Hebraicum: variis lectionibus, ex codicibus manuscriptis et impressis. Recudi curavit et notas adiecit Paulus Iacobus Bruns. Brunovici: Orphanotrophei, 1783.
Published in a facsimile edition with introductions (Vaduz, 1986).
See Hidden Treasures (Jerusalem, 2010), pp. 54-58, no. 18, according to which,
"As hypothesized, the cycle was written in the city of Würzburg …. It seems that the cycle was brought to Warmiza by the refugees of the Jewish community of Würzburg, after its destruction in the Rindflisch decrees, in 1298…. Instead of the original second part, it was added to the 'Warmiza cycle' volume 2 of another cycle, similar in dimensions and close to it in time, in the environment of origin and custom and in style."